FOUNDATIONS
Concrete foundations are the cornerstones of each and every project. The safer, sounder and more durable they are, so will be the...
SUPER STRUCTURES
From the bedrock up, RNC carries the weight of your designs and dreams on our shoulders – so your projects can truly soar.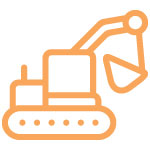 EXCAVATION
RNC will help you move the earth and carve out a better place in the design and building world. To us, excavation is much more than...
Support of Excavation
At RNC, we're also experts in working with what you have and making the most of existing sites and structures. Our Support of Excavation...