BUILDING A BETTER NEW YORK FOR OVER FORTY YEARS
RNC Industries provides integrated concrete construction services in New York City and the surrounding areas. Our clients trust us to deliver safe, quality projects that stand the test of time. Our owners, personally oversee all projects and our crews include dedicated professionals who take pride in everything they do.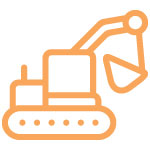 EXCAVATION
RNC will help you move the earth and carve out a better place in the design and building world. To us, excavation is much more than...
SUPER STRUCTURE CONCRETE
From the bedrock up, RNC carries the weight of your designs and dreams on our shoulders – so your projects can truly soar.
FOUNDATIONS
Concrete foundations are the cornerstones of each and every project. The safer, sounder and more durable they are, so will be the...
SPECIALIZING IN QUALITY EXCAVATION, FOUNDATIONS & super structure CONCRETE in new york